Main content starts here, tab to start navigating
Menus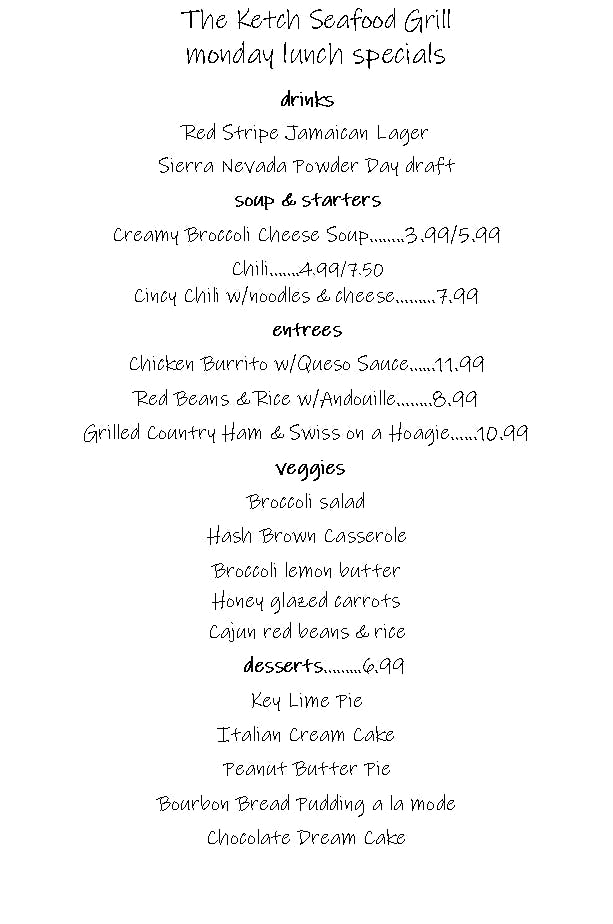 Starters
Warm Shrimp and Artichoke Heart Dip

Shrimp, artichoke hearts, onion, cream cheese, topped with melted cheddar-jack cheese. with chips for dipping

$11.89

Ketch Fingers

Beer-battered whitefish served with our house-made Old Bay Tartar sauce

$11.50

Ketch Beer Cheese

Our original recipe with raw veggies

$7.89

Cat Paws

Crispy catfish bites breaded in our original spice breading

$9.99

Flash Fried Calamari

Hand-breaded, flash-fried tubes, tentacles & banana peppers with a hint of cajun spice. Marinara sauce for dipping

$11.50

Fried Banana Pepper Rings

Lightly fried, cocktail sauce

$8.99

Wings

Fried to order with choice of Buffalo or Thai Chile Sauce. Served with celery & Bleu Cheese Dip. Order of 6 or 12

$10.99

$14.99
Oysters on the Half Shell

Freshly shucked oysters with Cocktail sauce, lemon, & horseradish. Served chilled or steamed. Order of 6 or 12

$11.99

$22.99

Wood Grilled Oysters

6 oysters on the half shell, grilled with garlic butter and Parmesan cheese

$11.99

$22.98

Oysters Rockefeller

6 classic Creole oysters baked with spinach, bacon and a touch of Pernod.

$12.99

Old Bay Shrimp...EZ Peel

Easy to peel, shrimp steamed with Old Bay seasoning. Hot or chilled

half lb $11.99

Basket of Hush Puppies

With Honey-butter.

$6.99
Beach buckets with seafood come with your choice of Old Bay butter, Fresh garlic butter, Cajun butter, naked or Drawn butter on the side
Beach Buckets
Enjoy steamed shellfish served in buckets. Pick your seasoning sauce: Raijin' Cajun, Fresh Garlic Butter, Old Bay Butter or Naked. Served with 2 sides.
Deadliest Ketch Bucket

One pound of steamed Alaskan Opelio Snow Crab Clusters with your choice of Old Bay butter, Cajun butter, fresh garlic butter or naked.

$35.99

Half Pound Snow Crab Bucket

Half pound of Alaskan Opelio Snow Crab

$18.50

Snow Crab and Shrimp Bucket

Snow Crab Cluster and 10 EZ Peel Shrimp

$28.99

Cajun Shrimp & Andouille Bucket

EZ Peel Shrimp and Andouille Sausage.

$20.99

Crawfish and Shrimp Bucket

Whole Crawfish and EZ Peel Shrimp with Andouille Sausage

$23.50

Cajun Crawfish Bucket

Boiled whole Crawfish and Andouille Sausage

$22.50
Hardwood Grill
Seafood, Steaks, Chicken and Ribs cooked over White Oak coals. Served with 2 sides.
Ribeye Steak

Choice Ribeye grilled to your liking and topped with melted butter. 10 oz 21.99, 14 oz 28.99. Add Grilled Shrimp Skewer 5.99

$21.99

$28.99

Blackened Mahi Mahi Remoulade

Mahi mahi fillet lightly blackened, served with Remoulade sauce.

$25.50

Cedar Plank Norwegian Salmon

Topped with Jerk sauce and grilled over hot coals on a Cedar Plank for extra flavor.

$23.90

Wood Grilled Shrimp Skewer

Wild caught Red Shrimp with your choice of Jerk sauce or Cajun BBQ butter or fresh Garlic butter. 8 or 16.

$16.60

$18.99

Grilled Chicken Breasts

Twin Boneless Chicken Breasts with your choice of Memphis BBQ sauce or Jerk sauce.

$16.60
Soup, Chowder and Gumbo
Louisiana Seafood Gumbo

Spicy shrimp, fish, crawfish, okra, Andouille sausage & veggies simmered with a rich brown roux served with rice.

$4.99

$7.50

Clam Chowder

Creamy New England style with plenty of clams, onions, & potatoes.

$3.99

$5.99

Special Soup of The Day

Ask your server.
Fresh Salads
Hail Caesar!

Romaine tossed with garlicy croutons, fresh parmesan cheese and our Signature Caesar Dressing.

$5.99

$10.75

Greek Salad

Tomato, Feta cheese, Kalamata olives, red onion, banana pepper rings & cucumber over romaine. With Balsamic Vinaigrette.

$5.99

$10.75

Tossed Garden Salad

Romaine, cucumbers, red onion, tomatoes, sliced egg, cheddar-jack cheese, bacon bits and croutons.

$5.99

$10.75

Entree Salads

Dinner sized versions of our salads topped with Grilled Chicken Breast 12.75. With Choice of Shrimp, Crab Cake or Grill Blackened Salmon 16.75.

Salad Dressings

Ketch Signature Bleu Cheese, Louis (spicy 1000 Island), Classic Caesar, Balsamic Vinaigrette, Creole Remoulade, Jamaican Jerk, Honey-Mustard, Ranch, Olive oil and Red Wine Vinegar.
Signature Dishes
Baja Fish Tacos

3 Whitefish Tacos fried, broiled or Blackened with tomatoes, Cheddar-jack cheese & Baja taco sauce. Served with Black beans & rice & Guacamole.

$14.99

Shrimp Tacos

With Black Beans & Rice and Guacamole

$16.99

Shrimp & Grits

Sauteed red shrimp, with creamy cheese grits & Andouille gravy. Served with one side.

$16.99

Voodoo Casserole

Shrimp, Crab Cake and Whitefish topped with Mornay sauce, toasted bread crumbs

$24.99

Sea Scallops

Fried, broiled or lightly blackened

$24.69

Broiler Platter

Red Shrimp, Crab cake and Whitefish broiled, or lightly blackened

$24.99
Fried Favorites
Lightly fried in 100% vegetable oil. Choice of 2 sides.
Fish & Chips

Lightly fried Alaskan Whitefish in beer batter. With our signature Old Bay Tartar Sauce.

$15.99

Domestic Catfish Dinner

Farm raised Catfish fillets tossed in our secret blend of spices and lightly fried.

$16.99

Fried Red Shrimp

Peeled, deveined and hand breaded. With Cocktail sauce. 8 or 12

$16.25

$18.50

Fried Oysters

Lightly dusted and flash fried. With Cocktail sauce

$19.99

Pelican's Platter

Fried wild red shrimp, whitefish, clam strips and scallops, with all the dipping sauces. Available fried only-no substitutions

$27.99
Great American Fish Sandwich

Alaskan whitefish fried, broiled, or blackened on a house-baked bun or rye bread with Old Bay Tartar sauce

$11.99

Catfish Sandwich

Domestic catfish fried, broiled, or blackened with Old Bay Tartar Sauce.

$11.99

Ketch Angus Cheeseburger

With choice of cheese

$10.99

Chicken Sandwich

Boneless chicken breast fried, blackened or grilled served on a toasted bum.

$11.99
Most Beverages can be packaged for Take Out. Always drive responsibly.
Homemade Desserts
Bourbon Bread Pudding

Served warm with rich bourbon sauce and vanilla ice cream

$6.99

Chocolate Dream Cake

Triple layer cake with chocolate icing

$6.99

Italian Cream Cake

Traditional, with cream cheese frosting

$6.99

Peanut Butter Pie

Oreo crust, creamy peanut butter filling. Topped with crushed M & M's, chocolate sauce, caramel and whipped cream.

$6.99

Key Lime Pie

Graham cracker crust with creamy key lime filling

$6.99
Available Monday thru Friday until 4:00 PM. Closed Tuesdays.
Lunch Entrees
Baja Fish Tacos

Alaskan Whitefish fried, broiled or blackened on 2 soft tacos with tomatoes, cheddar-jack cheese, & Baja Taco sauce. Served with Black beans & rice and Guacamole.

$11.99

Shrimp and Grits

Sauteed shrimp on creamy grits with Andouille gravy.

$14.99

Blackened Chicken & Grits

Blackened chicken breast on creamy cheese grits with Andouille gravy

$12.99

Blackened Salmon

$14.99

Veggie Plate

Choose 4 side items

$11.99
Fish and Chips

Beer battered Alaskan Whitefish, lightly fried.

$12.99

Farm Raised Domestic Catfish

Lightly fried in our blend of cracker meal and spices. Also available broiled or blackened.

$12.99

Clam Strips

Crispy fried clam strips.

$12.99

Red Shrimp Plate

Argentine Red Shrimp, fried or broiled.

$13.99

Dusted Oysters

Select oysters lightly dusted and fried

$14.99
Lunch Sandwiches, Burgers and Po' Boys
With lettuce, tomato, onion, dill spear and one side
Great American Fish Sandwich

Alaskan Whitefish on choice of rye bread or toasted bun

$11.99

Catfish Sandwich

Domestic Catfish

$11.99

Po' Boy, Shrimp or Oyster

Remoulade sauce

$13.99

Ketch Cheeseburger

Choice of cheese

$10.99

Philly Cheese Steak

Sliced sirloin, onion, green peppers, on a toasted hoagie

$11.99

Chicken Sandwich

Boneless chicken breast, fried, blackened or grilled

$11.99

Buffalo Chicken Sandwich

Fried chicken breast tossed in Buffalo sauce, served on a toasted bun